The Mountain Trust is a non-profit registered UK providing low-cost, high impact projects to target some of the problems encountered by Nepal's marginalised and remote communities since 1999. Since then, we have been pioneering projects in healthcare, education and human rights.
Our objectives include:
i) Advance the education of the public of Nepal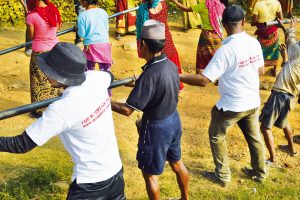 ii) To develop the capacity and skills of disadvantaged individuals and communities
iii) The relief of financial need and suffering among victims of natural or other kinds of disaster in or from Nepal
iv) To preserve and protect the good health both mental and physical of parents, young people and children.
We have built a strong and reliable network of supporters and colleagues on the ground in Nepal and internationally. The Mountain Trust receives no statutory funding and is run entirely through fundraising. We generate income through Donations, Volunteer Fundraising and One-off grants.
These past few years have been a difficult time in the history of Nepal. Only since 1950s has the country opened up to the wider world, and for the past 60 years they have vacillated between a parliamentary system and absolute monarchy. In the 1991 the first democratic elections were held, but in 1995, civil war broke out between the government and the Maoists in the Western part of the country. This guerilla war raged for nearly a decade, with thousands dying and atrocities committed by both sides. In the midst of this turmoil, the Crown Prince Dipendra assassinated 9 members of the immediate royal family, including his two siblings, and his parents King Birendra and Queen Aishwarya, before committing suicide. Prince Gyanendra, Birendra's brother, inherited the throne and deposed government the following year after the rebellion escalated. In 2007, seven parties, including the former Maoist rebels and the ruling party, agreed to abolish the monarchy and declare Nepal a Republic, with free elections.
Throughout this turbulent period, we have remained committed in supporting disadvantaged communities throughout Nepal and will continue to do so. Some of most of our significant achievements have included:
Carrying out medical research into Hypoxia with UCL and Oxford University
Providing a Land Rover ambulance to give much needed medical care to rural communities
Offering Human Rights placements through the University of Essex with organisations throughout Nepal.
Although these projects have come to an end, we have many more exciting and innovative programs to help the people of Nepal.
Click on the links below to find out more about our current projects:
Earthquake Reconstruction  Radio Guru